Signage in restaurants has several uses. Signs help to create the right atmosphere, improve the customer experience and provide safety information, meaning every single sign in a restaurant works hard. 
The wrong type of signage can mean the space doesn't have the right feel, you're hard to find or you aren't fulfilling safety requirements. This is why it is worth considering the different types of signs available for restaurants and which are the right choice for your business. 
Fascia Signs
It goes without saying that your restaurant needs a fascia sign. These are the signs that go on the front of your business to let people know what the building is. They are vital for bringing in passing trade, helping customers find you and providing insights about your brand and the type of restaurant you are. 
There are a lot of options available when it comes to your restaurant fascia sign, so we can help you with the design and creating the right feel. The most important thing to remember is that your sign should be clear, readable from a distance, in line with your brand identity and well-lit. 
Wayfinding Signs
Wayfinding signs are helpful in any restaurant no matter its size. They can help you to direct customers to seating on different floors, an outside area, the toilets and even to a drink station. This can improve the experience for customers as they are able to find everything they need without asking a member of staff. 
As well as being helpful, wayfinding signs can help to add to the look and feel of your restaurant. For example, a chic cafe may want to opt for simple signs in a stylish font while a family pizza place may suit light-up letters more. 
Tying in your wayfinding signs with the rest of your signage and interior design really makes all the difference – you just need to be sure they are still easy to see and read.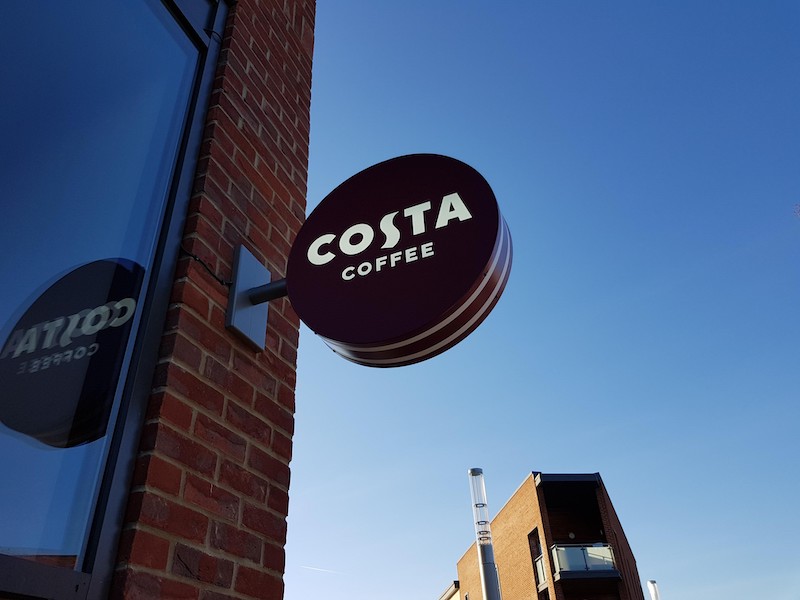 Projecting Signs
If your restaurant is located in a busy area that has lots of businesses, as well as lots of foot traffic, you may want to make sure you're easier to spot with a projecting sign. These stick out from the building so people can find your restaurant easier in a crowded area. 
Again, this type of external signage helps to set the tone for your business, so it should be designed in line with your branding. You also want to ensure projecting signs are fairly simple so they are easy to see and differentiate from other businesses. 
Digital Signs
Not every restaurant vibe will work with digital signage, so you need to consider if this is the right option for your business. Digital signage can be used to display your menu, which is ideal if customers order at the counter, or allow you to showcase daily specials if these change regularly. 
Similarly, if you have regular events happening or special offers, digital signage can be a great way to let people know about them without having to create and hang posters or temporary signage. 
Safety Signs
Clearly displaying safety signs in your restaurant helps customers and staff. Not all safety signs need to be in the customer area of the restaurant but others do – such as fire exit signs and any necessary fire action notices. You should also make sure you have temporary signs that can be put out when needed, such as wet floor signs. 
Other safety signs that should be used in the restaurant include fire extinguishers and first aid signs, although these are commonly displayed in the kitchen area or behind the bar. 
While other signs in your restaurant should take your branding into account, safety signs should be simple and easy to identify. This ensures they aren't missed by staff or customers, especially in an emergency situation. 
Information Signs
After all the external signs, wayfinding and safety signs have been considered, Information signs are a valuable item to think about. These can be included to display both important information, or to add to the customer experience and extend your branding.
In a fast-food style environment, the menu sign is the most essential of these signs. It has a dual purpose in informing customers of both what's on the menu and how much it costs.
As mentioned, digital is an option, but there are lots of other styles and can be suspended from the ceiling, wall-mounted, free-standing or a podium style sign. It could even be as simple as I vinyl to the window near the entrance.
Another important item is displaying opening times, which would normally be positioned on the door, or near the entrance, and must be visible when the restaurant is closed.
After the vital items have been covered, other important information can be displayed, with food allergy signs and calorie information becoming more and more popular.
Other non-essential information signs can be used to add to the experience. This can include brand history, where food is sourced or how it is grown, information on organic, fair trade or vegan options if it supports what's on offer. Signs can be used to display positive reviews, awards or anything that reassures new visitors of the quality on offer.
Signs As Decoration
Not all signs need to be about finding your business, pointing the way or customer and staff safety – some signs can purely be part of the restaurant's decor. 
You can introduce signs as decoration to help create the right atmosphere and support your branding. Signs like this can feature your restaurant name, famous quotes, your brand slogan or any other messaging that you think supports your business. 
This type of sign gives you a lot of creative freedom so you can mix up the style and type of signage throughout your restaurant. You can incorporate vinyl, built up, light up acrylic letters and other eye-catching options fairly easily. 
When using signs as decoration, it's important to remember that they need to fit with all other signage, reflect your brand and not make your restaurant look too busy. You also want to avoid making it harder to spot wayfinding and safety signage, so creating a plan is key to getting your decor right.